If you look at the generic definition of what it means to care, you'll see phrases that denote "doing what's necessary" or "giving attention or consideration" to something, possibly even "feeling concern for" or "looking after" someone.
At a Nightingale Healthcare community, to care is inevitable. What we do is innate and profound; to care at one of our assisted living communities is to provide an unwavering sense of comfort, safety, value, and respect for the individuals under our roof. It is our mission to provide the means for each person to live out their lives with us in the most meaningful and intentional way possible.
"Caring at a Nightingale community, serving seniors specifically, means acknowledging and honoring our residents for their entire life story, not just the relatively short period of time that they live with us," adds DeAnn Hawkins, Community Relations Director at Spruce Point Assisted Living, a Nightingale Healthcare community located in Florence, Oregon. "It is easy to look at their current life in a snapshot, but that does a disservice to them – our residents are so much more than that. Getting to know and respect who they were, what they did, as well as what they need from us now are all of equal importance. It's seeing the bigger picture, and every resident has a bigger picture – it's a privilege to get to know their story."
WE GIVE OUR TIME
One of the most significant things you can do for someone else is give them your time. Time is invaluable; it is irreplaceable. When you give someone your time, you're telling them that they matter and are worthy.
Each of our assisted living communities rest on a care philosophy that places a high-level of value on individualized attention to each residents' unique needs and desires.
"Caring means listening to other feelings, comforting them, building trust with them, and having patience," says Melissa Milanez, Executive Director of Sunnyside Assisted Living, another Nightingale Healthcare community located in Sunnyside, Washington."
Most everyone has an inherent need to feel heard. Our opinions, our thoughts, and our stories matter, and when they're not listened to, we can find ourselves in a place that lacks worth.
The simple act of lending an ear can make the difference in one's overall well-being.
"Our team genuinely cares for others and serves our residents selflessly," adds Melissa. "We have a sincere desire to help and improve the well-being of everyone we come into contact with and who is in our care."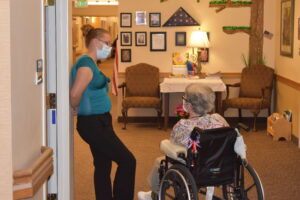 WE PROVIDE COMFORT
If home is where the heart is, our assisted living communities define home. With independent apartments that offer the privacy and space for mementos and personal touches, and home-style cooked meals that carry nostalgia throughout the building, our residents enjoy the comforts of home while they are under our care.
Transitioning into an assisted living community can be daunting. There are feelings of loss, sadness, anxiety, and fear. We know this and we do our best to address it head-on and intentionally by showering our residents with a sense of comfort, easing inevitable stresses with understanding, patience, and love – LOTS of love!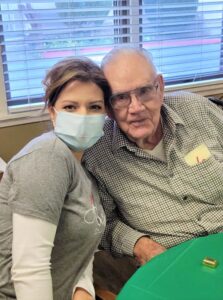 WE OFFER EXPERIENCES
Many of our residents come to us at a time in their life when they still desire independence but have found themselves in a situation where they're not quite capable of functioning without daily assistance. This often means that the luxury of regular excursions or adventures fall to the wayside.
Adventure and experiencing life to its fullest give us joy and anticipation, excitement, and fulfillment.
"I want to make the rest of their life the best of their lives," comments Nikki Saunders, Executive Director of Spruce Point Assisted Living.
Each of Nightingale's assisted living communities has a Life Enrichment team that ensures each resident is offered daily opportunities to engage, whether it's independently or in group settings, in activities that promote physical and mental stimulation or just provide a whole lot of fun!
It's not uncommon to see residents regularly enjoying a competitive game of BINGO or Crazy 8s, sipping cocktails and mocktails during "Thirsty Thursday" happy hours, sweating through a "sittersize" or "seated yoga" class, putting their creative caps on for an arts and crafts lesson, tapping their feet and swaying to the sounds of live musical entertainment, or painting the town red while on a site-seeing excursion or regular shopping trip nearby.
Every adventure counts. Every smile, every laugh, and every new memory adds value and enjoyment to their lives.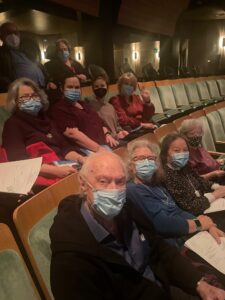 WE LOVE INTENTIONALLY
That's really what it's all about, isn't it? Loving intentionally without the need or desire to be loved back?
We have armed ourselves with caregivers that not only excel at their professions, skill-wise, but also as intrinsically caring humans and we could not provide the level of compassionate care that we do without them.
When someone chooses to transition their life into one of our communities, they are choosing to live their best life among friends who will embrace and celebrate their individuality. When you choose a Nightingale Healthcare community, you get to be you, under your terms, with the necessary assistance you require to lessen any burden and remove any stress.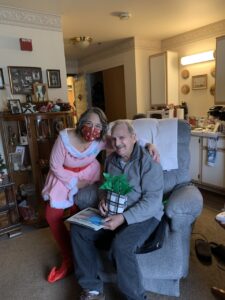 —
Nightingale Healthcare is a privately held, family-owned healthcare management company located in picturesque Bellingham, Washington. Founded in 2014, it has been our mission to serve the communities in which we are located with superior skilled nursing and assisted living services. Our patient-centered approach to care incorporates individualized care plans alongside an unmatched level of compassion, patience, and love.
We proudly operate nursing communities throughout Washington and Oregon. For more information about our nursing communities and the services we provide, please visit our website or contact Nightingale Healthcare directly at 360-656-6609.