(This was originally published on March 29, 2022 and written by Steven Arbuckle of Whatcom Talk, an online community resource publication in Bellingham, Washington)
Many families find themselves having tough conversations about finding the right environment for their elders, and the staff at Summit Place Assisted Living are no strangers to those talks. They are happy to share their thoughts on how to shop around, what sorts of offerings to look for, what to expect financially and, most importantly, when to start the conversation.
"Typically, the thing to look for is someone who needs a little bit more help at home," says nurse and Resident Services Director Elizabeth Martin. "They need some help getting dressed for the day, or ready for bed. Maybe they need some help bathing, or with medications. They don't necessarily need 24-hour nurse care, but they do need someone there."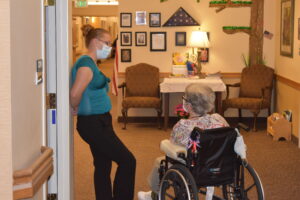 Resident Services Director Elizabeth Martin chats with a Summit Place resident. 
Martin shares a familiar story of a person who has a caregiver stop by to help out in the morning, then spends the rest of the day sitting alone, waiting for the caregiver to return that night to help them get ready for bed. That sedentary lifestyle can easily lead to pressure sores and other skin infections, as well as more serious internal disorders.
Experiencing those conditions can change everything, sending a candidate for assisted living into a skilled nursing facility instead. "There's the potential that a skilled nursing facility can rehabilitate them a little bit, and they move up to the level of assisted living, but that's not always the case," Martin says. "We would rather see people maintain their independence longer and be able to do what they can for longer, than to have an emergency situation."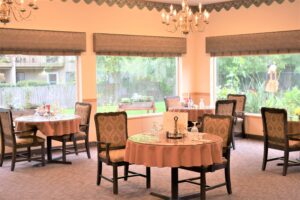 More than just a place to enjoy meals, the dining room also serves as a hub for much of the social life of an assisted living facility. 
That's why so much of the focus is on doing research and making a plan before an emergency arises. And the danger is not just physical, as Martin has learned from COVID restrictions. "They don't want to go out, they're concerned about infection, so we see seniors that are depressed, they're lonely," she says. "Humans are social creatures, and in assisted living you get consistent interaction with other people. Whether that's staff, or other residents, or engaging in activities — there are social opportunities."
The first step, according to Summit's Executive Director Jozef Bosman, is to visit facilities to see how they're run and what they offer. "Does it smell clean, does it look clean, is it an enjoyable place, is it comfortable? And even though it's hard sometimes for a senior to want to come along, I encourage families to bring them, because that's where they're going to be living," Bosman says. "You want to make sure that they're comfortable, as well."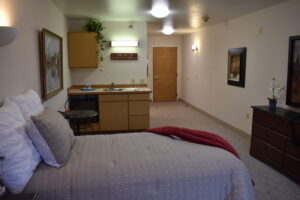 Comfort and convenience allow residents to make themselves right at home, while round-the-clock caregivers ensure a healthy environment. 
During a visit, both sides should ask each other plenty of questions to ensure all parties can enjoy a positive relationship. "When we meet with the perspective new residents, Elizabeth does a medical assessment, and we make sure that we can medically provide for them," Bosman says. "But we're also asking, Is this person right for our community? Are they going to fit in with the other residents and are they going to make it a positive experience for everybody else and for themselves?"
Finances should also be a part of that conversation, since different facilities often operate in very different ways.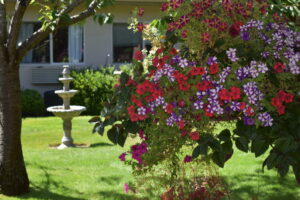 Financial planning can be a big part of assuring the best possible retirement situation.
"Most facilities have what they call a 'spend down,' meaning you'll pay for a facility privately for two, three, or five years before moving on to governmental assistance of some form," says Bosman. "Some facilities, such as ours, ask for three years, and some facilities will take people straight in, but they're a little different." It helps to know what options are available, and it's never too early to look into long-term care insurance, to make a better outcome that much more likely.
When shopping for the right fit, families should acknowledge that some of the burden of the move does fall onto them. "Some people feel some guilt, like they're abandoning their parents, but we like to stress that you're bringing them to get a better level of care," Bosman says. "And you don't need to worry about giving them medication or feeding them or making sure the bills are paid; we become the responsible ones, and the families get to be the fun ones."
Ultimately, the person making the move should know that they're going to share their lives with the right team. "People are comfortable where they are, and there's definitely some fear about the loss of independence," says Martin. "But really, we're not here to change or direct your life, we're here to enhance it. We're here to support you and keep you safe and healthy. You're still an adult; you still get to make choices."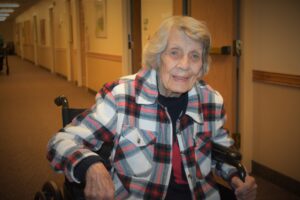 The best assisted living facilities aren't meant to change or direct residents' lives, but to enhance them. "We're here to support you and keep you safe and healthy," says Summit Place's Elizabeth Martin. "You're still an adult; you still get to make choices."